Custom Stairs Burlington
How To Choose The Ideal Staircase For Your Home
Why choose Royal Oak Railing and Stair Ltd. when it comes to designing and installing customized stairs in Burlington, Oakville or Mississauga? The answer is simple: we use both our experience from the past and the latest modern technology in order to make the process easier, more efficient and cost–effective than ever before. In combining the latest computerized processes with the trusted handiwork of our skilled associates, Royal Oak products are beautifully designed and crafted, while providing the utmost in functionality, structural integrity and durability.
In terms of the interior of a home, stairs and railings remain a major focal point and visual centerpiece; the proper placement, design and style of a household's stairs can greatly alter the visual aesthetic appeal of the entire home. From open concept, winder box, circular to standard straight staircases, Royal Oak is prepared to help you find the perfect staircase for your home.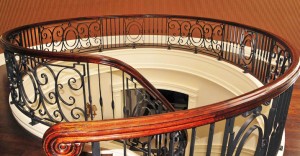 Finding the ideal staircase for your home can initially seem like a tricky task, but once several factors are included and considered, the decision making process becomes easier. The first factor that must be considered is the layout of your household, and the location of the staircase—space constraints may make one type of staircase immediate preferable over others. The next factor would be functional aspect of the staircase—will it experience a lot of traffic? Does it need to be wide instead of narrow? Do you have elderly members of your family who will need special requirements? A thorough consideration of functional factors will make sure that your new staircase is both perfect for your home and the people living in it.
Whatever staircase design or style you end up choosing, Royal Oak is confident in our ability to provide the finest quality custom stairs in Burlington, Oakville or Mississauga. This is because Royal Oak manufactures, supplies and install—every step of the process is taken care of so our clients have no need to fear that any portion of the process is left unfinished. This allows our products to be designed exactly as intended for their designated homes, and be installed by our own professionals who will follow our standard process, thereby reducing the risk of miscommunication, confusion and delays in installation. Contact Royal Oak Railing and Star Ltd. today for a free estimate today on getting customized stairs in Burlington.