Custom Stairs in Mississauga
What Types Of Staircases Styles Are Available?
Royal Oak is proud to provide a large variety of stair designs and styles that will suit every customer's need—we specialize in pre–fit, pre–assembled, custom production staircase systems that are easy to install, elegantly designed and structurally durable. For professional quality customized staircases in Mississauga, Burlington and Oakville, there is simply no better option than Royal Oak—we'd be delighted to help you rejuvenate your household as well as increase its immediate value through our service.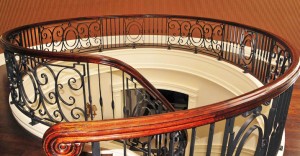 Royal Oak has the variety in styles and options for our clients to build the perfect customized stairs in Mississauga, Oakville and Burlington. The types of staircase styles at our client's disposal is only limited by their vision—everything from open concept to circular, winder box to straight, Royal Oak has the customization options and the ability to make it happen. Our staff utilizes the latest in computerized technology in order to design and manufacture staircases that are the perfect fit for our client's homes. Because Royal Oak controls every step of the process, from design, to manufacturing, to installation, our ability to communicate with our clients in order to meet their needs is unmatched. We'll be able to design the staircase that you have envisioned, craft it to fit the exact dimensions of your home, then install it as intended—all while making sure that our clients are perfectly satisfied with our work, every step of the way.
From elegant, sprawling curved staircases to economical, modern straight stairs, Royal Oak provides an unlimited range in custom components for our clients to pick and choose at their leisure. Wood species such as oak, maple, birch, beech, ash, mahogany, walnut, jatoba and cherry are just a few that are available to our clients, all ready to be utilized in components and accessories such as spindles, handrails or posts. The customization aspect of staircase design is an excellent opportunity for our clients to inject their personal touch and style into the project, and to make their new stairs a true visual centerpiece for the home.
Contact Royal Oak to see what the possibilities await your home —
and make the stairs of your dreams into a reality.