Custom Stairs in Oakville
When To Replace Your Existing Staircase
Royal Oak Railing and Stair Ltd. is committed to providing the best quality professional service in upgrading or replacing of existing stairs in Oakville, Mississauga and Burlington; with over 25 years of experience in the field, we are confident in our ability to rejuvenate the state of your household through replacing or upgrading your existing staircase with the latest styles and designs that the industry has to offer.
For most homes, staircases are heavily used as they are the only pathway between the different floors of a house, with wear and tear becoming ever more noticeable with each passing year. This shouldn't surprise anyone—after all, any structure over time will start to deteriorate, much less something as heavily used as stairs. However, stairs serve as a major visual and focal element to a household, in addition to their functional use; replacing a staircase can completely change the style and geography of the home through reorganizing the space distribution on a floor, allowing more light into the home, and many other potential benefits. Replacing your current staircase with new, luxurious, wood stairs in Oakville, Mississauga or Burlington has never been easier than with Royal Oak Railing and Stair Ltd.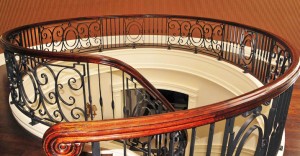 The need to upgrade or replace your staircase starts when you feel that the current one no longer fits within the home—aesthetically or functionally. If your current staircase does not fit the style and design of the home, or the positioning of it is restrictive and counterintuitive to what you have envisioned for the household, then a change may be in store.
Likewise, if the functional aspects of your staircase is lacking, then a replacement should be seriously considered. Maybe the steps are constantly creaking and seem unstable; perhaps the carpeting on your current steps need to be replaced, or the railings seem loose; any structural lapses stemming from wear and tear can be a safety issue for the home, which should be immediately rectified. Royal Oak can make the process of replacing or upgrading your existing staircase with newly customized stairs in Oakville, Burlington and Mississauga an easy and enjoyable experience; through manufacturing, supplying and installing our own specially made stairs for each client, we ensure that each step of the process is completed with the utmost attention to quality, detail and professionalism.