Custom Railings Burlington
How To Choose The Ideal Railing For My Staircase
Railings are an integral part of any staircase—they should compliment the style and design of the overall staircase aesthetically, while providing strong functional support. The style of railing you choose should be heavily influenced by the style of staircase you are looking to incorporate into your home, of course; however, the customization options available at Royal Oak enables our clients to pick and choose from a limitless range of possibilities, making sure that each portion of the staircase and railing is the perfect fit for their home. Railings give the staircase a visual presence and completes the overall visual aesthetic of a stair system—it can be argued that the railing is the flourish and spark to the more functional role of the stairs. With over 25 years of experience in designing, manufacturing and installing customized railings for Burlington, Oakville and Mississauga homes, we are confident that we'll be able to find the perfect fit for you.
Ideal type of customized railings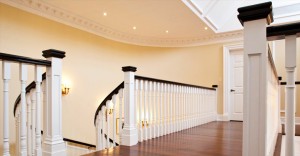 When it comes to selecting the ideal type of customized railings for Burlington, Oakville or Mississauga homes, factors such as the current style of the household should be considered—do you want the railings and stairs to fit into the existing theme, or provide a sharp contrast and stand out? Are there commonly used textures, materials and styles within the house that can be replicated on the railings? For example, if the house currently has lots of fine wooden textures and curved elements, perhaps the staircase would be best fitted with a similar design element in order for it to be truly incorporated into the household. Likewise, the staircase can be used to contrast the existing elements that threaten to overwhelm, and restore a sense of balance to the home. Regardless of the final decision, how the railings and stairs contribute to the overall design of the household should always be considered.
The functional aspects must also be considered when choosing the right railing style for your staircase and home. While there are restrictions on how staircases and railings need to be structured in order to meet safety regulations (how many consecutive steps on the straight staircase, the minimum height of the railing, etc.), there is still a lot of variables that can be adjusted in order to maximum the functional benefits of a proper railing. Proper railings should aesthetically compliment the staircase and house, while making sure that the stairs and easy and safe to use for everyone. Contact Royal Oak today if you have any inquires regarding installing custom railings for Burlington, Oakville and Mississauga homes—we'll be happy to share our expertise on the matter.