Custom Railings Mississauga
When To Replace Your Existing Railings
While railings and stairs aren't commonly thought of as an element within the house that needs upgrading—unlike the kitchen, bathroom, basement, etc., it still remains to be a visual centerpiece for the home and an element that is heavily used by all household members. This heavy use, however, will result in standard wear and tear—railings may become loose and unstable over time. While this may not initially seem like a pressing concern, a loose or unstable railing can cause anything from a mild inconvenience to serious injury to the people in your home. This is due to the fact that stairs are used at all hours of the day, in all types of situations. From a father hurrying down the stairs in the morning to get to work, to a teenager groggily going back upstairs to her room to study while precariously carrying some plates and coffee in the middle of the night, we are not always at our most alert when using this central element in our homes. Thus, the sturdiness of a railing may be the difference between a serious fall down the stairs or just a small scare.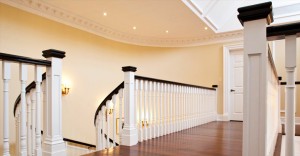 Endless Customization Possibilities
If completely replacing the whole set of stairs is not within your budget, or is deemed unnecessary, then simply replacing the existing railings can make for a great and affordable visual and functional upgrade to your home. The various material types (wood, iron, glass) and endless customization possibilities (post, spindles, transitions, etc.) available to clients of Royal Oak ensures that a new railing system will rejuvenate the state of your home, while improving the safety and functional aspects of your stairs system. If you feel that the railings of your staircase needs upgrading due to purely aesthetic appeal, or if there are deeper functional issues, then do not hesitate to contact Royal Oak. With over 25 years of experience, we are confident in our ability to provide the finest professionally designed, manufactured and installed customized railings in Mississauga, Burlington and Oakville.