What Types of Railing Materials Are Available?
Royal Oak has many different railing styles and designs available to our clients, making it easy for them to build the perfect staircase system for their home. Royal Oak offers some of the finest materials and components for customized staircase railings in Burlington, Oakville and Mississauga—the amount of options available to our clients is truly staggering.
Wood, Iron or Glass Railings:
The majority of our railings are created using three main materials—wood, iron or glass. Each material has different benefits to the user as well as a distinct visual appeal; choosing the right one for your home will depend on your personal taste and style, as well as the general shape and structure of your staircase system. Whatever you end up choosing, Royal Oak Railing and Stair Ltd. promises that the final product will be beautifully designed, crafted, and professionally installed—we pride our reputation as the go–to solution for customized railings in Oakville, Mississauga and Burlington for this very reason.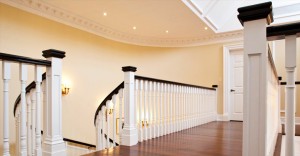 Advantage of Wood Railings
The greatest advantage of wood railings is their versatility in style, shape and design—due to the copious amounts of wooden textures available to our clients— oak, maple, birch, beech, ash, mahogany, walnut, jatoba and cherry, just to name a few—the possibilities of a customized wooden railing is truly endless. Customized wood railings in Oakville, Mississauga or Burlington homes will also evoke a classic, timeless and elegant aesthetic that is unmatched by other material types. If you're looking for a versatile material that can be easily customized to suit your railing needs, look no further than customized wood railings from Royal Oak.
For incorporating a more modern aesthetic into your home, iron railings may be the ideal solution. Iron railings are strong, extremely durable, and suitable for intricate designs—they will bring a sense of luxury and refinement into your establishment. For an even more contemporary approach, consider glass railings—they reduce the visual obstruction in the stair system, offering a minimalistic approach that maximizes the focus on the stairs themselves. From wood, glass to iron railings for Oakville, Mississauga and Burlington homes, Royal Oak has the options and the ability to make your vision come to life. Contact us today and lets see what we can do for you.