4 Types of Wood to Use in Your Staircase
Posted on November 20/2019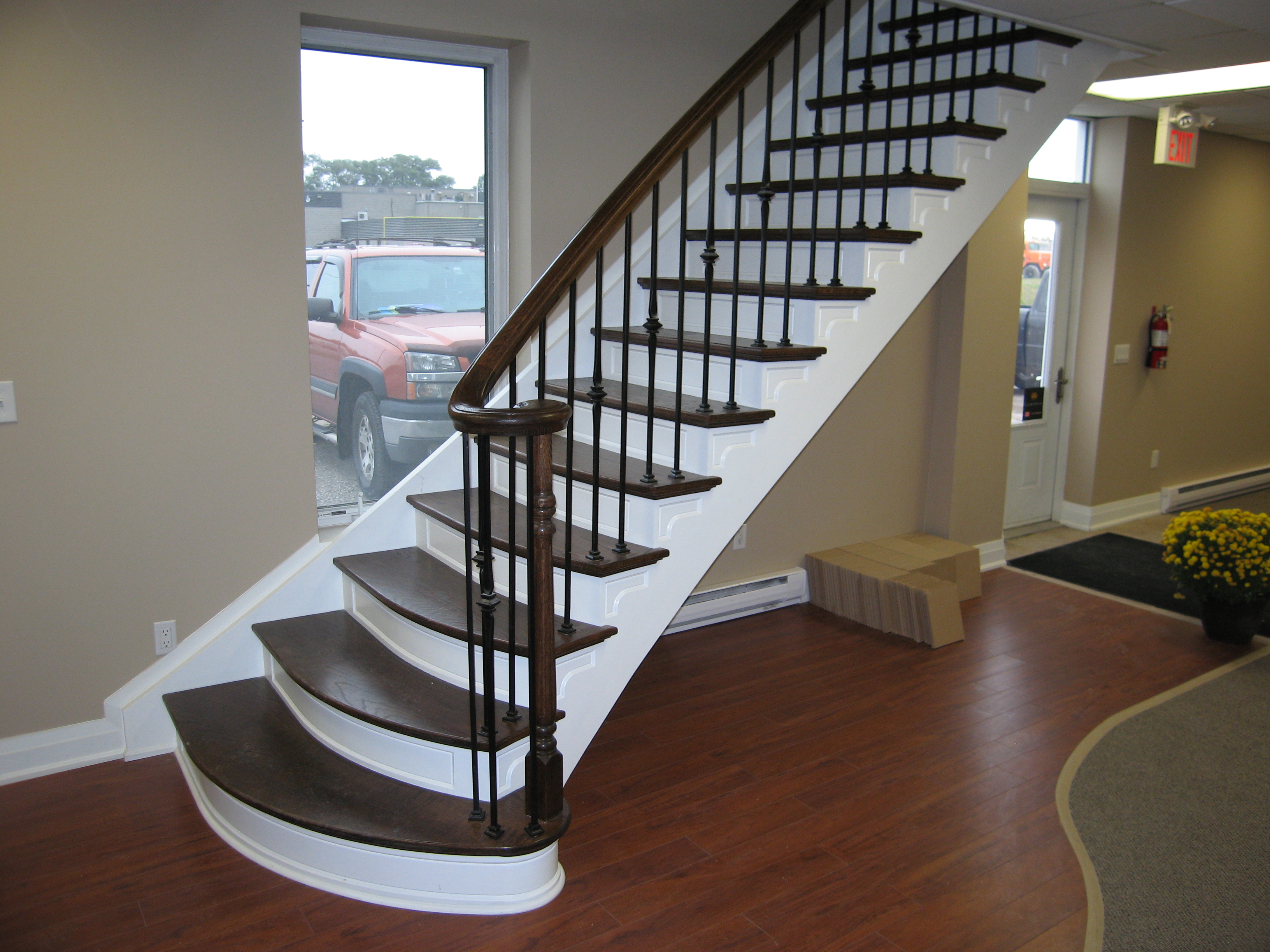 If you're process of planning a wooden staircase renovation in your home, Royal Oak Railing & Stairs can help you with choosing the best material to suit your tastes, needs and budget. When choosing a material for a staircase made of wood, it is important to determine the quality of the wood – it should have a fairly dense structure, withstand temperature and humidity differences. Today we'll take a look at 4 of the best types of wood for your staircase.
A wooden staircase has always been considered a bright accent of the interior, combining reliability, durability and attractiveness. Natural wood is the most convenient material for the production of staircases. It is easily amenable to various processing methods, and a wide selection of species provides a range of benefits to choose from. One should not forget that wood is also a very "capricious" material, which is not always friendly with high humidity.
4 types of wood to use in your staircase:
Oakwood
Due to its high strength and attractive grain, Oakwood has always been appreciated and widely used in both interior and exterior applications. In particular, Oak is used for manufacturing veneers, carvings, parquet; in furniture production, interior decoration and in the construction industry. The advantage of oak wood is its durability and resistance to moisture. Oakwood has about 600 species worldwide, split into two main varieties: red oak and white oak. Red oak, in particular, is very popular and grows in many different parts of North America.
Appearance: Oak is a large, beautiful tree with a mighty crown and a powerful trunk. On the radial section of the oak trunk, large core rays and light sapwood are clearly visible. Oak trees typically reach a height between 80 and 100 feet.  Red oak has a slight rosy undertone to it, while white oak is naturally a yellow to a light brown color.
Advantages: Oak is one of the best and most popular woods for stairs and furniture and it's no wonder why.  Oak is highly durable and has a beautiful fine grained texture. In addition, red and white oaks are more resistant to warping and can be processed quite well.
Disadvantages: Oak wood is quite heavy, and expensive. In addition it can break or split easily. As a result of the tannic acid found in oak, steel and iron fittings can corrode. This can result in permanent stains on the wood.
Walnut
Walnut wood has a striking even texture, is moderately hard, strong, and is easy to maintain and polish. Walnut genus is made up of over 20 varieties that grow in Europe, Asia and North and South America. Walnut is a very dense and durable tree; yet, it can be easily cut and trimmed. Depending on the climate and soil, the color and structure of walnut wood varies significantly, however, it is always very decorative. The more the tree ages, the more valuable and darker its wood becomes. The special properties of walnut wood allow it to be used in the production of furniture, floors, musical instruments and interior decoration, among other things.
Appearance: The color of wood can be quite different, since it depends on the place of growth of the tree and especially on the properties of the soil and climate. As a rule, the rich dark brown wood of the core is colored unevenly and has darker spots and stripes. The sapwood has a light yellow color. The wood texture is very interesting and varied due to the clearly visible, winding rings, and uneven coloring of the core. The straight grain of the walnut can also have some grey, reddish or even purple undertones to it.
Advantages: Walnut wood is quite resistant to moisture, takes well to processing and polishing. The wear resistance of walnut wood is high, as well as the resistance to decay. For a long time, walnut wood has been widely used for furniture production, due to the fact that it can be easily machined, is durable and has a beautiful texture. Walnut has a wide variety of shades to suit every taste and it is easy to stain due to the high content of tannins. Another advantage is that despite being a dense type of wood, it is not too heavy and remains malleable.
Disadvantages: Walnut wood tends to be on the more expensive side. In addition, walnut is not very weather resistant.
Maple
Maple is a solid, dense wood with a beautiful texture.  The strength of maple wood is slightly greater than that of oak wood. The color of the maple wood is almost white, sometimes with a slightly yellowish or pinkish tinge. Maple wood is an exquisite material for interior decoration, creating an impressive contrast against dark features. Maple wood is used in flooring, furniture production, trim, and wherever a light-colored wood is desired.
Maplewood is typically categorized into two groups:  hard maple and soft maple. Despite the name, soft maple is still a type of hardwood that groups together a number of maple varieties. In contrast, only one maple species, the Acer saccharum, is usually referred to as hard maple.  This is also the type of maple from which we get our beloved maple syrup! Soft maple and hard maple have a wide range of uses, such as furniture, cabinetry, doors, veneers etc. Hard maple is often preferred for construction of stairs due to its higher density.
Appearance: The dense and strong finely porous maple wood has a beautiful pattern with narrow dark core rays, which gives it a special decorative effect.  Depending on the species, maple color greatly varies: from very light yellow, almost white, to pinkish color.  Some species also have red, brown or grey streaks.
Advantages: Maple is an incredibly strong type of wood with a smooth, lovely appearance.  It is also very firm and quite elastic. Maple wood material is easy to process, polish, stain, varnish and is easy to maintain overall.
Disadvantages: Due to its light color and texture, scratches and marks may be more visible on maple wood. Like many other wood types, maple does not like humidity and changes in temperature and is prone to cracking. This wood type is especially not suitable for outside use as it Is not very weather resistant.
Ash wood
Ash is an elastic, strong, hard wood and has a beautiful texture. Ash is characterized by good flexibility and has a light tan/grey shade with bright, clear fibers. In many ways, ash wood is similar to oak, but lighter and has no pronounced core rays. Ash wood also has a high wear resistance and toughness. This material is not sufficiently resistant to the effects of the external environment and quickly deteriorates upon contact with the ground.
Appearance: Ash wood has a grey, light yellow or pinkish hue, and the core is light brown. As the name suggests, white ash tends to have a lighter color and broader spaced growth rings. On the other hand, black ash is a bit darker with growth rings much tighter.
Advantages: Ash wood has a prominent straight grain, which provides an interesting texture and appearance. The biggest advantage of ash is its toughness, flexibility and great elastic qualities. In addition, ash stains quite well and does not tend to warp as much.
Disadvantages: Ash wood is not a weather resisting material, and can be hard to process and polish. In conditions of humidity ash can quickly get damaged.