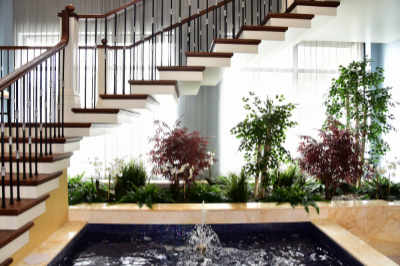 Royal Oak Railing and Stair has been in business since 1987. In this time we have grown from a simple operation to a well-established business employing over sixty skilled craftsmen, sales and support staff. Our creative and innovative approach to design along with our attention to material and manufacturing methods have made Royal Oak Railing and Stair a sought after supplier of quality stairs and railings. Our clients recognise the value in having a well-designed, well-built stair and how it can affect their bottom line. In 1995 Royal Oak Railing and Stair purchased a CNC Router system allowing our stair work to have unparalleled quality while improving our production. The system was improved on in 1998 with the purchase of a newer more capable CNC Router System. This new system is larger, faster and more flexible. As a result, we have expanded this technology to our railing department giving us a level of consistency not previously attainable.
Our goal is to provide all our customers, no matter where they are located, a product that will satisfy them for many years to come. It was with this goal in mind that Keith Karn and Blair Hilder established Royal Oak Railing & Stair Ltd. in 1987.
Since that time Royal Oak has become a leading manufacturer of production and custom staircases for the residential and commercial builder, as well as high-end custom projects.
To ensure that we meet our customers' exacting requirements, Royal Oak will manufacture any type of custom staircase, in any type of wood species, including red oak, white oak, maple, birch, beech, ash, mahogany, jatoba and cherry. Drawing from a wide range of balustrade, newel post and handrail styles, Royal Oak can also produce any type of customized railing that may be required.
Large home builders, residential general contractors, architects, and designers have worked with Royal Oak Railing & Stair Ltd. since 1987, providing their customers with unique and exclusive designs. If you wish to obtain a quotation for your staircase or railing needs, please contact our office by phone, fax, or email.