If you already have a staircase in your home, you may want to give it a quick look just to see what kind of condition the railings may be in. If you have an older home, you may not have ever even given this much thought, but odds are that you will notice that there may be some things that are loose or broken and should probably be replaced. Unless you are experienced in this type of work, it is always best to bring a professional in to make sure everything is done up to code and is safe and secure, besides looking nice. If you have the opportunity to do something different, now is the time where you can make some changes in the wood railings Toronto in your home.
The Many Options in Wood Railings Toronto
You may be surprised to learn about all the options that are available to you today when it comes to wood railings. Technology has progressed and times have changed to the point where you can have so much more than just the standard railings that were offered years ago. Our staff and designers can do just about anything for you today, so if you can imagine it, it is likely that it can be accomplished for you.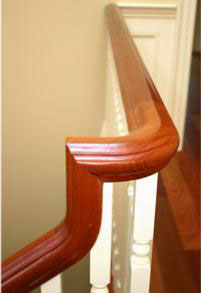 There are several options available to you just when it comes to the woods you can use. You can choose from many different types of hardwoods, like cherry, oak, maple or poplar. You can go with a dark, finished look or something more standard and basic. You can really find anything at all to suit your particular tastes and needs.
Safer and Sturdier Wood Railings Toronto
With all the advances made, the styles and construction of railings today are much sturdier and safer than they were years ago. There are certain industry standards that exist today to insure everything that you would have installed meets all safety requirements. Our staff or installer will also make sure everything regarding the height and length of the railings is up to the particular codes of your area.
In the past, the safety standards were not as stringent as they are today, so the quality of work may have been lower. Today, the codes are much stricter, requiring certain elements take things like children, the elderly and pets into consideration when a design and installation occurs. You are likely to notice a difference right away when your old railings are removed and you see and feel the difference with the newer railings used today.
Everything today, even custom pieces, are much safer than the past. Our designers and our staff can even help you design and install things that special railings for those with disabilities. You can have pet gates or child gates or child railings installed as well to make sure everyone stays safe in your home.
Not only do wood railings Toronto add all these safety features to your home, but many prefer the look of wood over any other material. The wood lends a classic, elegant look to nearly any home. Whether you choose a standard railing or something customized for you, you will find that wood railings are not only solid, but beautiful for your home.