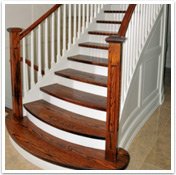 As we have entered the 21st century, interior stairs and railings continue to be a focal point in many new homes and home renovations. This means the design and quality of the product is very important to accent the interior of your home.
Our stair design capabilities and procedures are well established. We utilize the latest computerized technologies to design and to manufacture our quailty stair products. In many instances, the stairs are pre-assembled and ready for installation on site, saving your custom home builder time and money.
Cleverly Designed & Elegantly Handcrafted to Perfection in Every Detail.
Quality, pre-fit, preassembled, custom and production staircase systems are our specialty. Founded 25 years ago, Royal Oak Railing and Stair Ltd. has now grown into a leading North American staircase designer and manufacturer providing beautiful stair & railing systems that add solid value into the homes of their discriminating clients. Whether you have a simple staircase or a complex, high-end, custom circular, solid hardwood staircase, our highly skilled designers and craftsmen ensure the right fit to express the aesthetic and architectural requirements of your project.
We also provide a wide array of wood turned spindles, iron spindles, handrails and turned or box style newel posts. Many types of wood species are available, including Oak, Maple, Birch, Beech, Ash, Mahogany, Walnut, Jatoba and Cherry to name a few. 'Wall supported' or 'Freestanding' curved staircases are available with an unlimited range of custom components, including custom handrail profiles and custom balusters. Royal Oak utilizes modern computerized machinery and production processes to further enhance the consistent quality and workmanship that is visible in every component of your staircase.
We invite you to visit our showroom to see our manufacturing process. We have established long term relationships while supplying thousands of staircases for home builders, residential general contractors, private builders, architects, and designers throughout North America.