The best metal railings are built by incorporating style and durability. Royal Oak Railings & Stair specializes in custom metal railings. We can help you come up with a design that is suitable for your space. If you need to match the railing with an architectural component in your home, our team can handle it. We can work with any kind of material from stainless steel to wrought iron.
Durable Metal Railings
We take pride in building a strong reputation in Toronto. Our metal railings are built to stand up to the test of time. We always put our customers first and do all it takes to ensure they are 100% satisfied before we are done. Most importantly, all our railings are built up to code. Our metal railings not only have to be beautiful but also meet all building code requirements. We're ready to flex our creative muscles and come up with a design that's perfect for your space. Get in touch with us today for more information.
Exterior Metal Railings
We provide the perfect exterior railings to meet the unique needs of our clients. We create high-quality railings using iron and stainless steel. For many years, we have provided quality exterior railings to our clients, and they are happy with our products. We understand that different property owners have different tastes and preferences. Our railings come in different designs and materials to ensure there is something for everyone. Exterior railings do more than enhancing the safety and security of a building. Royal Oak's railings have high aesthetic standards that will enhance the curb appeal of your property. Despite being made from high-quality materials that could last a lifetime, our exterior railings are affordable. You'll definitely get good value for your money. You can never go wrong with Royal Oak's high-quality exterior metal railings.
Interior Metal Railings
You should never underestimate interior railings' role in enhancing the visual appeal of your home or office. Often located on the stairs and balcony, interior railings make your stairs safe and add beauty to your living space. Our railings come in different designs and concepts and are easy to accentuate with decorations like glass panels and curve railings. You can choose between iron and stainless-steel railings. When you choose your preferred railings design, we will custom-make the railings to meet your unique specifications. Our interior railings are available in both simple and highly ornate designs. We provide railings for staircases of every size ranging from just several steps to multi-story buildings stairs. We pride ourselves on adhering to the highest standards of quality and professionalism in everything we do.
Deck Metal Railings
Deck railings may seem like an insignificant part of your home, but they contribute greatly to the overall image of your home. You should consider several factors when choosing the ideal deck railings for your home, including the materials used in manufacturing the railings. You should also consider how well the railings blend in with other features of your home. We invite you to explore Royal Oak's gallery of stylish deck railings designs and choose the most suitable for your home. You can count on us for all railing types, including luxurious railings, decorated, wavy, and minimalistic deck railings that are simple but contemporary. You can choose from our railings designs or choose your own novel design, which we will be glad to create. Our deck railings are not just appealing but also sturdy and durable.
Stair Metal Railings and Handrails
Royal Oak is the leading provider of stylish and high-quality stair metal railings and handrails in Toronto. Immediately you contact us, we will dispatch our team of designers to your property to capture the lay of the land and get the necessary measurements. There is more to a staircase than its functionality; a staircase serves as an important focal point in a living space. We will help you choose the best staircase railings and handrails, materials, and designs to bring out the best in your staircase. The first thing most people will notice upon visiting your home or office is the staircase. First impressions matter; choosing the right stair railings and handrails will help you create the perfect first impression. We will work with you to achieve the desired image of your home or business.
Balcony Metal Railings
At Royal Oak, we understand the value of sustainability. We are committed to providing superior quality iron and stainless-steel balcony metal railings. We have vast experience in creating and installing exceptional balcony metal railings. Irrespective of the design of balcony railings you desire, we have the knowledge and skills to deliver superior railings at a reasonable price. We exceptionally craft every custom-designed balcony railing to meet the needs and preferences of our clients. We can accommodate a wide range of designs ranging from modern to conventional designs. Our steel railings are powder coated for an appealing and long-lasting finish. Give us a call today, and our team of experts will visit your property and help you choose the best iron and stainless-steel balcony railings.
 Iron Metal Railings
Iron railings are a smart choice for both interior and exterior applications. At Royal Oak, our iron railings come in different designs, sizes, and shapes. By choosing our iron railings, you'll enjoy unmatched durability and will not need to replace the railings for many years. Iron railings are sturdy and resistant to weather and other forms of damage. Metal railings are attractive and stylish for every interior and exterior design. We specialize in manufacturing modern wrought iron railings for both commercial and residential projects in the Toronto area.
At Royal Oaks, we can supply you with endless designs of iron railings; you can't run out of options. You can choose from our great variety of classic styles, conservative designs, and vintage romantic designs. It doesn't matter whether you are the adventurous type seeking to play with spaces or designs or the conservative type seeking no-frills metal railings; we've got you covered.
Why Choose Iron Railings
With so many types of metal railings available, why choose iron railings? Some of the best features of iron metal railings are:
Good Quality
We provide high-quality railings for both commercial and residential clients in Toronto. Our iron railings will maintain an appealing look and serve you for many years due to their great quality.
Safety
The safety of our clients and their loved ones is our priority. We create strong iron railings that can withstand pressure and reduce risks.
Affordability
Despite being of exceptional quality, our iron metal railings are affordable.
Steel Metal Railings
Steel railings are stylish, durable, and affordable. They come in many designs. There is a perfect railing for everyone.
How to Choose the Best Steel Railing for Your Home
With so many steel railings options available in Toronto, how can you choose the best railing for your home? You should understand the important factors to consider when choosing the best steel railing to ensure that you make a smart investment.
Factors to Consider When You Buy Stainless Steel Railing in Toronto
Always insist on stainless steel, especially for outdoor construction. Metal railings made from stainless steel are the most durable because they are weather-resistant and require minimal maintenance.
Other important factors that you should have in mind when choosing stainless steel railings are:
Consider whether to invest in a stainless-steel railing system that incorporates other materials like wood or glass. These railings will have a different appearance, maintenance requirements, and durability. The extra materials will also have an impact on the cost of the steel railings.
There are numerous stainless-steel railings designs to choose from, including colored, patterned, square, solid, and tube. Before you start shopping for stainless steel railings, you should have in mind the style that you want to avoid getting confused by the hundreds of options available.
The style of steel railings will determine the level of privacy and security that the stainless steel provides. For more privacy and security, you should consider the thick-barred or solid stainless-steel railings.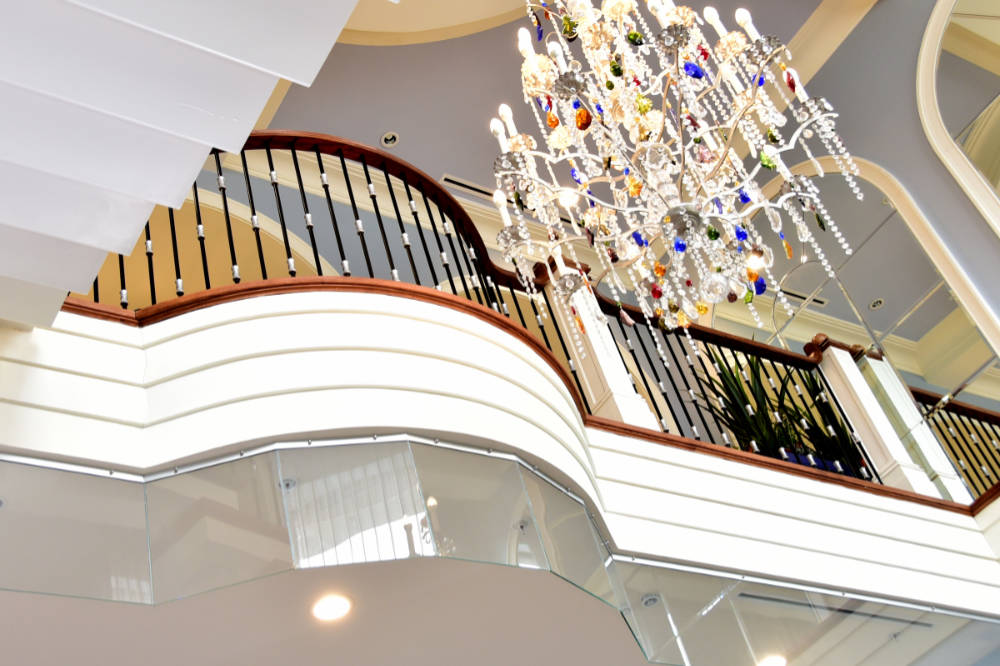 Custom Rail